I regard the writing center in my classroom as one of my biggest long-term successes. My students write often, they enjoy it, and they do so relatively independently.
I redesigned my writing center many years ago. The first step was to create a space in the classroom just for writing. I acquired an extra table, tucked it into a corner, and covered the wall with letters and sight words. As soon as we had a space dedicated to writing, students began to write much more.
I explain to each of my students that the writing center is for writing letters, words, and sentences; if children want to draw and color, that's great, but I ask them to do so in the art center.
The content of students' writing, however, is entirely their choice. I regularly suggest new words and/or sentences, but students usually have their own ideas. I attribute the success of my writing center largely to the degree of choice that students have.
I make a variety of materials easily available. Hundreds of small cards that have pictures and accompanying words (foods, jobs, colors, body parts, number words, clothing, and much more) are always on the table in small trays. Another container has word strips that have a student's first name on one side and his or her last name on the other side. Paper and writing implements are on the table, too, of course—we usually use pencils, but sometimes markers, crayons, and other things.
Often, students will choose to make lists of individual words by copying the words on our cards. That's fine, especially when students work hard on long lists, as they often do. My goal, however, is to get students excited about communicating ideas with written words. To do so, I set out groups of simple words that can be used to create sentences. Some simple examples are "I like [color, food, etc.]" and "I am [age, adjective, etc.]" As the year goes on, I introduce more complicated sentences, such as, "I want to be a [job]." or "Today is [weather] and yesterday it was [weather]."
Suggesting different sentences such as these serves a second function: students are introduced to a variety of basic sight words. Writing meaningful sentences is a rich, natural way to learn words. Without flashcard-type memorization activities, my students learn to use a good number of functional words.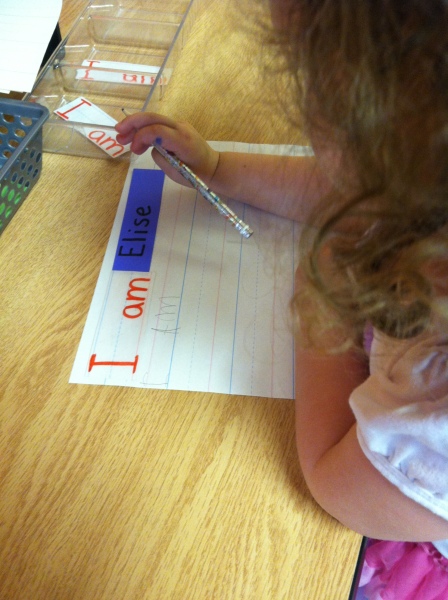 We also use the writing center to practice phonics skills. When children want to write words that aren't readily available, I ask them to write the letters for all of the sounds that they can hear in the words. Then, I get to act like detective and try to figure out what they wrote. It's fun. Try deciphering these:
Finally, as is the case with most of our classroom activities, I urge children to be silly in the writing center. I try to make students laugh with my sentences, and I encourage them to make each other laugh. Sometimes, all it takes is an extra word. Instead of writing, "I like broccoli," I might write, "I like blue broccoli." Not every student chooses to write silly sentences, but the ones who do often turn into the best early writers.